North Shore Oahu: An Epic Hawaii Beach Experience!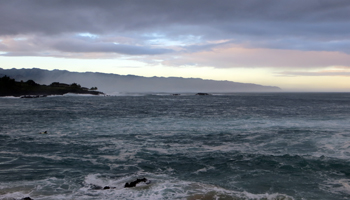 World famous North Shore Oahu includes the entire stretch of Oahu coastline between Kahuku Point (north) and Kaena Point (west).  However, most people tend to remember only the big-name Hawaii surfing breaks such as Waiamea Bay, Sunset Beach, and Pipeline.  Nevertheless, there are miles and miles of great beaches along the whole coast.  But you should be aware that part of what makes these Oahu beaches so outstanding is their isolation.  So, unless you're staying at the Turtle Bay Resort or one of the many beachfront North Shore Hawaii vacation rentals, you'll probably have to drive for approximately one hour just to get there.
The drive is worth it, though.  Year-round, North Shore Oahu has some of the most beautiful beaches you'll find anywhere in the world.  However, your activities at these beaches will vary significantly from one season to the next…
North Shore Oahu in the summer is tons of Hawaii family fun: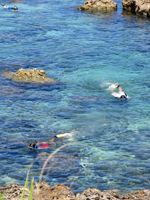 In the summer months, the ocean fronting the Oahu North Shore usually goes pancake flat.  This is true in general, but it's not guaranteed.  When conditions are like that, there's no better time to grab your snorkeling gear and go for a dive in the crystal clear waters.  Some of my favorite spots are in the Pupukea Marine Life Conservation District at Sharks Cove and Three Tables.  But, honestly, you can pick a spot nearly anywhere along that coast and have yourself a world-class Hawaii snorkel.  Fish life is abundant.  The underwater rock and coral formations are spectacular.  And your chances of seeing one of our Hawaiian sea turtle species are fairly good.  Check out my green sea turtle videos on the two links above.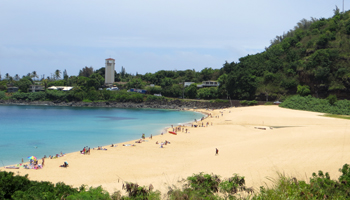 Summer is also the right time to go jump off the rock at Waimea Bay.  And if you have children, summertime at the beaches on North Shore Oahu is just about as safe as any beach day can be.  Better still: Waimea Bay, Ehukai Beach (Banzai Pipeline), Sunset Beach and numerous other spots have endless stretches of clean white sand both in and out of the water – making many of these Hawaii beaches a perfect place for your family's Hawaii beach vacation.
North Shore Oahu in the winter is dangerous even for experts:
Note:
I'm writing this in Nov. 2013, and within the last month, there has been one person rescued at Sharks Cove and one person who was never found after his kayak capsized in the surf at Mokuleia.  Don't make me add you to the bad news portion of this page.
Okay… I can't stress this enough: the water conditions during the winter months on North Shore Oahu can range from dangerous to deadly.  Unless you're a professional surfer or a lifeguard, you have absolutely no business getting anywhere near the ocean on a big North Shore surf day.  In fact, the waves get so big, and they're so strong, that they'll knock you off of your feet and thrash you about – even if you're just in the shore break!  For example: Waimea Bay can have a shore break that's 16 feet high and walling up across the entire bay.  You'll get pounded into the sand so hard that you'll think a truck hit you.  And if you're really unlucky, you might get dragged out beyond the shore break where the lifeguard may be your only hope.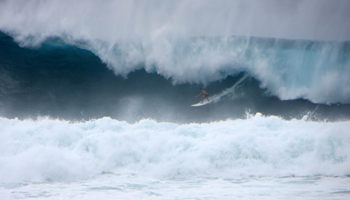 So why even bother with North Shore Oahu in the wintertime?  Because the enormous surf is awesome – to watch!  As long as you're there only to watch from a safe distance, you'll be in for a show like no other!  Monster waves can start rolling in as early as September; but they usually don't start arriving until October.  Then, just depending on the various meteorological forces at work in the Pacific, they'll continue their cycle of building and diminishing into approximately February or March.  Again, these dates are true in general, but they're not guaranteed.  Nobody controls the ocean.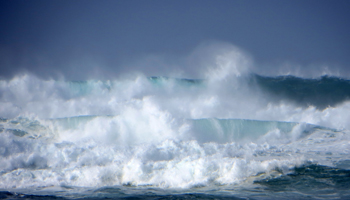 Some of the best places to watch the annual human endeavor to tame the giants include Waimea Bay, Banzai Pipeline (which will be called Ehukai Beach Park on the sign), Sunset Beach, and Haleiwa Beach Park.  If you're here in November/December, check out the Vans Triple Crown of Surfing.  It's truly a bucket-list experience to watch some of the best surfers in the world go up against these primal forces of nature.   Just sit way up on the shore with your camera, maybe some binoculars and your picnic lunch, and let your adrenaline fest begin!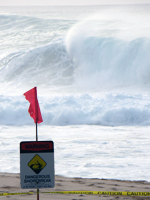 Remember, watching world-class monster surf is fun.  Getting pounded by it sucks.  So, if you see a North Shore Oahu beach that has been closed by yellow "hazard/do not cross" tape, don't assume that applies to everybody but you.  It's there to prevent your death.  But even if you don't see any such tape, stay out of the wintertime water and stay alive.
Other information about North Shore Oahu beaches: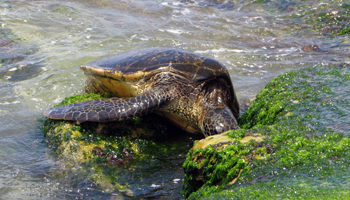 It's fairly common to see one of our species of Hawaiian sea turtles at many North Shore Oahu beaches.  But if you'd like a virtually-guaranteed close-up experience (without getting wet), you should stop at Laniakea Beach, which has so many green sea turtles right up next to (or on) the sand that it's commonly called "Turtle Beach".  To find this unmarked roadside stretch of sand, drive to the intersection of Kamehameha Highway and Pohaku Loa Way.  You'll be right next to it.  Just please use good judgment when parking and crossing the street.  All of the turtle traffic causes horrible congestion even without having to dodge pedestrians.  It's much worse when people start to wander out into the road without looking.  Also remember that it is illegal to touch or harass our Hawaii sea turtles.
It's less common, but not rare, to see Hawaiian Monk Seals stretching out in the sand along many North Shore Oahu beaches.  If you see one, don't panic.  It's not in peril.  It's resting.  Just keep your distance and let it sleep; because it's also illegal to touch or harass these endangered marine mammals.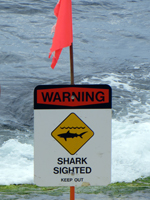 One more group of marine animals to avoid touching or harassing is the various types of sharks that can be found in the area.  I've seen more sharks (black tip and tiger) when I was surfing out in Mokuleia than anywhere else in Hawaii.  Before you start to fret, you should know that I was a couple hundred meters from shore and I've never been attacked or threatened by these animals (knock on wood).  For your average beach day at the more-popular North Shore Oahu beaches, you'll probably never have to worry about seeing a shark.  Nevertheless, if you see this sign posted on the beach, you may need to keep your eyes open in the water.
Disclaimer: No matter how I describe these beaches, stupidity and carelessness can still kill you.  Use your brain and take responsibility for your own safety.  Know the limits of your ability and stay within them.  Watch your kids like a hawk.  Heed posted warning signs.  Never turn your back to the waves.  Use your sunscreen.  Be smart about how you enjoy your Hawaii vacation.
Was this information helpful?  If so, please give it a "Like" below so that more people will be directed this way...
Thank you for visiting!