Flights to Hawaii: Only Part of a Hawaii Vacation Plan!
When considering flights to Hawaii for your ideal Oahu tourism getaway, I assume you have several questions along the lines of the following…  What's the cheapest airfare to Honolulu International Airport?  Where can you find Hawaii vacation deals?  Should you take any airline to Hawaii and/or is there an advantage to flying on Hawaiian Airlines?  What's the best time of year to book your Hawaii flights?  What other factors might affect your family vacation to Hawaii?  And what else might you need to know about air travel to Hawaii?  Slow down.  That's a lot of questions; and many of them overlap with one another.  So I'll try to address all of these topics in the most systematic manner possible.
First, however, you should know that I'm giving these tips – without any guarantees – as a local resident who usually flies in and out of the Honolulu airport two to six times per year.  I wouldn't call myself an extensive traveler, but I've definitely been on enough Hawaiian flights to give some general guidance.  I've also done some informal airline surveys (using their online booking tools) to compare costs between different airlines on flights to and from different locations at different times of the year.  Unfortunately, the only firm conclusion I could make about booking flights to Hawaii (or anywhere else for that matter) is that absolutely nothing is consistent from day to day, flight to flight, or destination to destination.  So here goes my best attempt at helping you find clarity through the chaos…
My Hawaiian air travel experience can benefit you: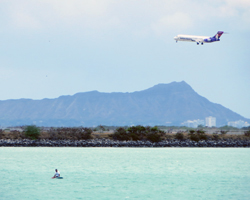 I have lots of experience flying out of Honolulu.  You're trying to fly in.  Fortunately, however, the direction seldom seems to matter.  The standard cost is similar whether coming or going.  During my recent airfare survey, I discovered that round-trip flights to Hawaii (from various cities) are frequently priced comparably to round trip flights from Hawaii to those same cities on the same airline/same date.  And if the prices did vary by direction, it was often cheaper for you to book a flight to Honolulu than it was for me to fly into your airport*.  Thus, if you follow the same flight booking strategies I use (as discussed below), you can probably achieve similar or even better results than me – and I'm always trying to get the best possible Honolulu flights!
REMINDER:
Before you can board any flights to Hawaii, you may need to figure out your airport transportation situation. I've recently come across a couple of great resources that could help you save a small fortune on airport parking… If you just need to park your vehicle for the duration of your Hawaii vacation, try this:
Save On Airport Parking At Over 65 US Airports
. They say they can save you up to 70%. Or, depending on your distance from the airport and the times of your flights, you might want to overnight in a hotel near your airport. If that's your situation, this seems to be a fantastic deal:
Reserve Airport Hotel for One Night & Get Up To 21 Days of Parking for FREE!
Also, since you're planning your dream Hawaii vacation, you might want to be prepared in case of bad luck…
Let Travelex Insurance protect your trip investment starting at $20!
*Unofficial cost comparison based on rates quoted by online booking tools for flights between Honolulu and multiple U.S./international destinations.
Factors affecting airfare to Honolulu:
Your location:
Where you're flying from is likely to have the greatest impact on the cost of your Hawaii airfare.  To some extent, the reason is obvious: if you live halfway around the world or in a location with no direct flights to Hawaii, you'll probably have to pay more to get here than will somebody who lives on the United States West Coast.
But a less-known reason is the destination fee that gets charged in the cost of each airline ticket.  This assessment of taxes and/or surcharges can vary based on circumstances.  Although the cost difference is usually negligible, it's still a variable factor.  This is due (at least in part) to variations in the airport tax laws.  That's all more technical than I care to address further; and it's nothing either of us can control.  So we'll continue looking at the cost factors we can influence…
Airline:
Since no single carrier always has the undisputed best airfare rate, I can't recommend any one airline to Hawaii for every circumstance.  As a result, you basically have two choices… go with your frequent flyer program or choose another airline based on criteria that are important to you.  I recommend both of these options.  If you have a frequent flyer plan that you feel gives great value, by all means collect those miles and use them to book a free trip back to Hawaii!
If, however, you're not committed to any one airline, you're probably open to suggestions.  In that case, there are several reasons why I would suggest that you at least look into the possibility of booking your flights to Hawaii on Hawaiian Airlines.  Click here for 16 reasons to prefer Hawaiian Airlines.
Dates of travel:
You may already be aware that all airfares are seasonally adjusted in relation to the demand.  The high (or peak) seasons tend to center around the school breaks and/or holidays – spring break, summer break, and winter break (Thanksgiving through New Year).  All of these dates are great for Oahu tourism, but you probably shouldn't expect to find cheap flights to Hawaii at those times.  Nevertheless, you could get lucky if you search hard enough, so feel free to try.  Meanwhile, between these periods, the standard rates often start lower due to decreased demand.
Advance booking:
Of greater importance than the dates you book is the date on which you make the booking.  You'll probably find the lowest standard rates if you make your airline reservations eight to ten months in advance of your actual travel dates.  However, just like everything else with the air travel industry, there are always exceptions.  As a result, it's often possible to find a lower Honolulu airfare than the standard rate.  We'll look at how to do this in my discussion about finding the cheapest flight to Hawaii (see below).
In general, the best advice I can give is to check rates early and check them often.  You're bound to get lucky sometime – especially if you're dates are flexible…
Your flexibility:
In addition to choosing the ideal travel season and booking in advance, you might still be able to realize even greater savings on your flights to Hawaii.  If you don't do this already, be sure to select the flexibility options on the airline booking tools.  Sometimes choosing a flight one to three days before or after your originally intended travel date and/or choosing another airport on your end (not an option for Honolulu tourism) could save you a considerable amount of money!
Activities of interest: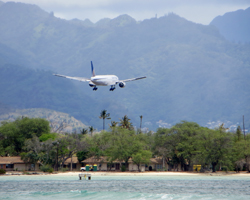 It may be last in this list of influences affecting your flights to Hawaii, but what you want to do when you get here certainly isn't the least important factor!  Throughout the rest of this site, I'm compiling information about hundreds of free and fun Hawaii things to do.  If you've decided that snorkeling at Sharks Cove is a must-do Hawaii activity for you, then you want to be here in approximately July (high season) and definitely not in November (low season).  Meanwhile, if you want to watch the monster surf at Waimea Bay, you could potentially travel in October (low season), December (high season) or January (low season).
If hiking the Puu Maelieli or Lanikai Pillboxes trails is your highest priority, the best weather will probably be in July, but these are not exclusively a July activity in Hawaii.  Meanwhile, if you want to watch humpback whales, July is exactly the wrong time to be here.  Thus, I suggest giving careful consideration to which Hawaii attractions are the most important for you to see or experience.  If you still need help figuring out which activities to do in Hawaii, start with the menu buttons at left.  There are more fun things to do in those lists than you could fit into ten Hawaii vacations!
Hunting for the cheapest flights to Hawaii:
I saved this section for last in the hope that you might read about (and benefit from) all the other important considerations detailed above before you dive headlong into the hunt for cheap flights to Honolulu.  Nevertheless, I realize that the availability of affordable Hawaiian flights is one of the single most important factors to consider for anybody living by a budget.  For that reason, I've dedicated an entire page exclusively to my insider tips for finding the cheapest airfare to Hawaii.  Please just remember that all of the points discussed above can affect the decisions you'll make about your Hawaii air travel; and booking flights to Hawaii should never be done based solely on the price.
However, if you just want to cut to the chase, here's what I recently discovered... I compared the costs for various dates from San Francisco (SFO), New York City (NYC) and Tokyo (TYO) round-trip to Honolulu (HNL). For almost every date/location variation I tried, the best rates were found using the booking tool OneTravel:
"Domestic Travel Deals! Save up to $15◊ with Promo Code USA15. Book Now."
Meanwhile, a very close second place for most date/location combinations (and best rate for the others) was found here:
Save on travel at CheapOair.com
(links open a new window/tab). For every travel date/departure location combo I tested,
both
of these services offered significantly cheaper airfares than booking directly with the airlines – even on the same airlines in many cases!
Additional help finding the best flights to Hawaii:

Cheap flights to Hawaii: Learn specific tips and tricks to help you find the most affordable airfare to Honolulu.

Hawaiian Airlines information: Discover 16 reasons why you might prefer to travel on our signature air carrier.

Honolulu International Airport: Make your arrival easier by learning what you need to know before you even get here.
Disclaimer: Because airline industry information is subject to constant change, this page offers generalized and anecdotal information only.  Individual experiences will vary.  There are no guarantees stated or implied.  Only the airlines and authorized airline booking services can quote guaranteed rates.  This information is provided exclusively for the purpose of helping direct you in your search for the best possible itinerary.
Was this information helpful?  If so, please give it a "Like" below so that more people will be directed this way...
Thank you for visiting!