Hawaii Hotels: Which One is Right for You?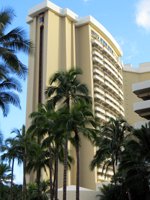 Trying to give you the most useful information about all the various Oahu Hawaii hotels and their many sub-categories such as Oahu resorts, Waikiki Beach hotels, Honolulu Hotels, Ko Olina Resorts (including the Disney Aulani Resort, of course), and Hawaii vacation home rentals is a challenging prospect for me… Because even though I see all these Hawaii lodging places every few days, I seldom have any occasion to stay there.  I go to events and all the fun Oahu tourism activities at these hotels and resorts; and then I go home.
You, however, are going to need a place to stay during your Hawaii vacation.  And I intend to help you figure out exactly where you would most enjoy the visit!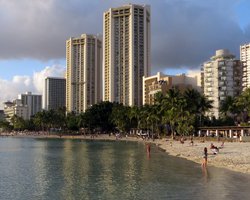 Since I've seldom had the occasion to be a guest, I can't just rank them all from favorite to least.  But what I can do is categorize these Hawaii hotels and Oahu lodging options by the criteria I would use to find the right place to stay in the various phases of my traveling life:
1) young and on a budget
2) traveling with children
3) Hawaii dream vacations
My various hotel category links are at the bottom of this page.  You may skip there now if you wish.
Or you can start shopping now (ad):
Click Here for the Best Honolulu Hotel Deals!
(link opens a new window/tab)
However, if you are uncertain about where to stay, the following information might be useful…
Important considerations when researching Hawaii hotels: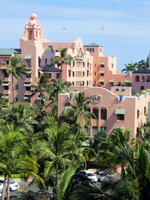 If you belong to a timeshare/frequent guest program and always stay at a certain type of lodging, by all means keep doing what works for you.  Personally, I'm not that loyal to any one brand.  I go looking for what best meets my needs in any given location.  And I assume that if you're reading this, you may be open to some helpful information.
Unless you're determined to have the cheapest Hawaii vacation ever booked – regardless of what it will cost you in overall enjoyment – never choose your lodging based exclusively on the price.  You should look for Hawaii hotels and/or lodging based on the satisfaction value it will add to your entire Hawaii tourism experience.  And don't worry… I'm not trying to trick you into spending lots of money.  I've dedicated the majority of this site to identifying more than 100 fun and free Hawaii things to do, which should easily make up the difference for any little extra you spend on the perfect place to stay.  Furthermore, I'll make it a point to talk about Waikiki hotel deals and other budget Hawaii vacation tips to keep you in the green (or whatever color your currency happens to be).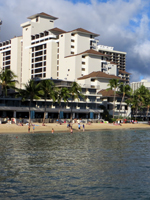 Feel free to conduct your property-specific research on the different hotel home pages. In fact, I'll make it a point to provide links to several. But you should exercise caution when looking at their resource pages, such as the "photo gallery" and tabs with names like "area activities". Although I'm not specifically aware of any site that intentionally misrepresents the proximity of the featured Hawaii attractions, you should be aware that every Oahu hotel web site I've looked at shows island-wide activities. And in many cases, it seems as if they would be content letting you mistakenly assume that all those Oahu Hawaii activities are right outside their front doors. Some are. Many aren't. At least cross-check what you see there with the Hawaii activities information on my site. I've also found (ad)
Hotels.com
to be a useful resource for accurate information (link opens a new window/tab).
Perform a quick self assessment.  Figure out your Hawaiian vacation objectives and what kind of traveler you are.  The rest of this page will categorize Hawaii hotels and other Oahu lodging options based on the different types of Hawaii vacation travelers I meet each year.  You should fall into one or more of these classifications; and that will point you in the direction you'll want to look.
Finding the best Hawaii hotels depends on you: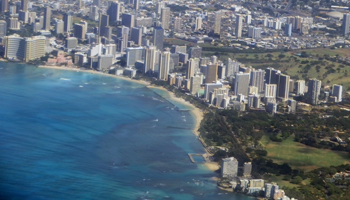 Who are you?  Or maybe I should ask which of the following best describes you…
Bargain Hunter: You're young, very active, on a tight budget, and traveling specifically for new experiences/adventures.  You're single or married without children.  You need a place to leave your bags, shower, and maybe sleep for a few hours; but the rest of your time will be spent away from your lodging.
Family Vacationer: You're traveling with children, your plans are determined largely by what the kids can handle or what they'll enjoy, and you're willing to pay for convenience.  You need a place that's comfortable for longer periods of time because the kids will need naps and/or will be getting to bed early.  You don't want to carry your child (plus all of his/her gear) several blocks to the beach; nor do you want to be in some remote location where you'll have to drive extensively to get to every meal and/or activity.

Dream Vacationer:

You are traveling because you want to relax and you can.  You want to enjoy your Hawaii hotel room.  You want to sleep in late.  You might even order room service.  You'll get out and do whatever activities appeal to you as long as they don't interfere with your overall relaxation.  And if the resort offers everything you want to enjoy, you might never leave the property.  This doesn't necessarily mean you're rich – just that you place the greatest value on comfort.
Now that you know your needs, let's start looking at your Oahu lodging options…
Review the Hawaii hotels that suit your circumstances:
Click on any of the following accommodation categories for a more in-depth examination of the pros and cons of each.  I'll make it a point to post links to several of the various properties…
Oahu Beach Resorts:

Disney Aulani Hotel: This Hawaii vacation resort is primarily for dream vacationers and Disney Vacation Club members.  It features all the popular Disney magic; but it's not centrally located – which might be exactly what you want.

Waikiki Beach Hotels: These are some of the most famous Hawaii hotels – probably best for family vacationers and dream vacationers.  You can practically roll out of bed onto the beach, and they're conveniently located near many other things to do in Honolulu.

Other Beachfront Oahu Hotels: These Hawaii hotels/resorts are located outside of the hustle and bustle of Waikiki/Honolulu.  As a result, they are not conveniently located near all the popular Oahu tourism attractions – good for dream vacationers and some family vacationers.
Other Non-Beachfront Waikiki Hotels:
Initially, I thought this would be a single category, but there are so many non-beachfront Waikiki hotels that I can't possibly address them all in one page.  Therefore, I've divided Waikiki into three geographic sections.  And within each area, these Waikiki hotels are all located in the few blocks between the beachfront hotels and the Ala Wai Canal.  You can find Hawaii hotel deals, hotels that are almost-on-the-beach, and mid-range/boutique hotels in each section of Waikiki.

Northwest Waikiki Hotels: These hotels are located within the section of Waikiki that's closest to the Hawaii Convention Center, Ala Moana Shopping Center, Magic Island, and the weekly fireworks shows.

Central Waikiki Hotels: These hotels are… well… central.  They're close to the Royal Hawaiian Shopping Center, where many festivals on the Hawaii event calendar hold their block parties and parades.

Southeast Waikiki Hotels: These hotels are closest to Diamond Head crater and Kapiolani Park, which includes the Honolulu Zoo and Waikiki Aquarium.  They're also close to the best beginner sufing spot, the widest parts of Waikiki Beach, and the weekly torch lighting ceremony and free hula shows.
Other Non-Beachfront Oahu Lodging Options:

Honolulu Hotels: The few hotels in Honolulu (but outside of Waikiki) are often occupied by business travelers.  However, pleasure travelers are welcome too; and these properties are centrally located.  Thus, these Hawaii hotels might appeal to bargain hunters and some family vacationers.

Hawaii Vacation Rentals: There are lots of great Hawaii vacation rental homes and condominiums scattered about Oahu.  Many are not centrally located, which is probably what makes them attractive to dream vacationers, family vacationers, and possibly even a large group of bargain hunters.

Hawaii Hostels: For the extremely low-budget Hawaii vacationer, you could consider staying in one of several hostels.  Many are located among the various Waikiki hotels, which makes them easily accessible by cheap public transportation; and they're close to numerous free activities.
Click any of the links above to start your search; and happy hunting!
REMINDER:
Before you arrive at any Hawaii hotels, you may need to figure out your airport transportation situation back home. I've recently come across a couple of great resources that could help you save a small fortune on airport parking… If you just need to park your vehicle for the duration of your Hawaii vacation, try this:
Save On Airport Parking At Over 65 US Airports
. They say they can save you up to 70%. Or, depending on your distance from the airport and the times of your flights, you might want to overnight in a hotel near your airport. If that's your situation, this seems to be a fantastic deal:
Reserve Airport Hotel for One Night & Get Up To 21 Days of Parking for FREE!
Unfortunately for me, neither of these services are available at the Honolulu International Airport, but that shouldn't stop you from saving some cash!
Was this information helpful?  If so, please give it a "Like" and/or "g+1" below so that more people will be directed this way...
Thank you for visiting!