Triple Crown of Surfing Slams into North Shore Oahu!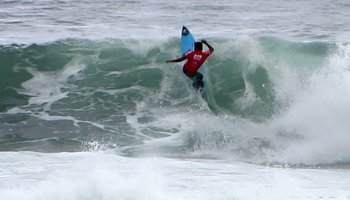 North Shore Oahu

November 12 to December 20
If your Hawaii vacation has you on Oahu in November/December, the Vans Triple Crown of Surfing should be high on your list of activities to do in Hawaii.  That's when the world's best professional surfers drop in on the monster North Shore Oahu surf for a series of Hawaii surfing spectacles like no other!  Whether you follow professional surfing or not, these three big-wave contests will make you an instant fan.  After all, it's impressive watching anybody go up against waves three to five times their height; but it's absolutely incredible when you see the pros go at it.  So bring your telephoto cameras and your binoculars, because you're in for a show!
As the name implies, the Triple Crown of Surfing consists of three events (jewels) at three different world-famous North Shore Oahu surf breaks.  The first of these is the Reef Hawaiian Pro, which spans a period of almost two weeks in mid-November at Haleiwa Ali'i (ah-lee-ee) Beach Park.  The second jewel is the Vans World Cup of Surfing, which runs from the last week of November through the first week of December at Sunset Beach Oahu.  And then there's my personal favorite event: the Billabong Pipe Masters at Banzai Pipeline for approximately the next two weeks.  For specific details about each, keep reading below.
Before we discuss each individual contest, there are some things you should know that apply to all three:
Because these contests are dependent upon having the right oceanic conditions, all the dates provided for these contests are holding periods.  If the surf is too small or too disorganized, the competition will be delayed until the next day – or possibly the day after that.  Thus, your schedule needs to be flexible enough to get out there when the contest is on and go do other fun Hawaii activities when the conditions are poor.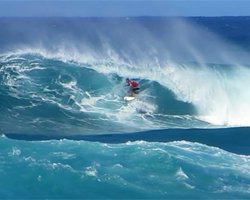 How will you know which day is right?  Great question… call the Surf News Network Hawaii surf report line at 808-596-SURF (7873) each morning after 7:30.  They'll tell you if the contest is on for that day; and they'll also keep you updated about any contest-related events that may be happening elsewhere on Oahu (such as special appearances by the pros).  You could also check the official Triple Crown web site (link opens a new window/tab).
The weather will often be less than stellar.  It's winter.  It won't be cold; but it won't be a beautiful summer day.  Don't let that scare you off, though.  To me, it's just another great day in Hawaii; and at least I'm not in the snow somewhere.  However, if you chill easily, the breeze might make you want a lightweight jacket or sweatshirt.  It might even rain, so bring an umbrella.  Cloudy or clear, make sure you use sunscreen.  You'll burn either way.  Some of the worst sunburns happen on cloudy days.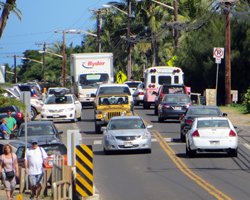 The Triple Crown Events draw fairly large crowds, and the parking is usually woefully inadequate at the beach parks themselves.  Your best bet is to get there early.  Even then, you may still have to find parking on the side of the street, which is okay (but not great) at all three locations.  You may have to walk a few hundred meters from your car to the beach.  Just be careful as you're walking along the road because it is narrow and all the additional traffic tends to make things a little crazy.  The good news is that there's always plenty of room to park your chair or mat on the sand.  Then just keep your eyes open for waves washing up the beach.  As the tide comes in, the shore break stretches closer; and you could get an unexpected soaking if you're not paying attention.
If you're on a family vacation in Hawaii, you should not think that your children can play in the water while you watch the surfers.  The water conditions will be far too hazardous to let your children swim.  However, even though the beach will be crowded, you should still be able to find an open patch of sand where your children can play.

Reef Hawaiian Pro: 1st jewel of the Triple Crown: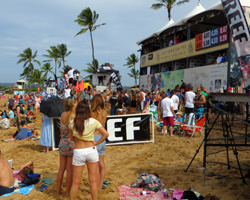 Haleiwa Ali'i Beach Park
66-167 Haleiwa Road, Haleiwa, HI 96712
(next to the marina in Haleiwa Hawaii)
November 12 to 23 or 24

Heats start at 8am
The first jewel of the Triple Crown is primarily a contest of adaptability.  Strong currents, shallow reefs, a shifty peak, and conditions that range from clean and glassy to stormy and violent, can make the Reef Hawaiian Pro a battle against the elements as much as it's a test of talent.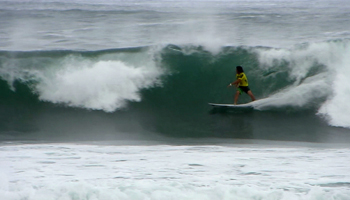 When the waves are small (approximately waist-high to twice over-head), you'll see lots of big moves and a lot of shredding.  However, when the surf gets big, it also gets hollow.  Contestants will be looking to catch the biggest, deepest, longest tube rides possible – which, of course, is exactly what you're hoping to see.  In these conditions, the waves often look like never-ending walls of water stretching the full width of the beach.  They get big, strong, and fast – very challenging.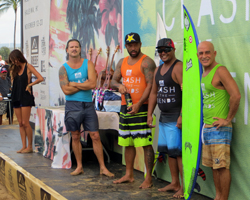 The Reef Hawaiian Pro also features a "Clash of the Legends" in which four of the most popular champions of yesteryear are chosen by online voting to compete against one another for a separate prize.  These are the guys I grew up watching; so I love this portion of the contest.  They don't call these guys legends for nothing!
There are seven rounds of heats (not counting the Legends, which fall between regular heats on the first two days).  The first round begins with 128 contestants.  From that, 96 advance.  Then there are 64, 32, a quarter final, a semi final, and a final.  It typically takes four days within the holding period to complete these rounds.
Vans World Cup of Surfing: 2nd jewel of the Triple Crown: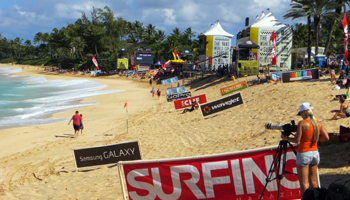 Sunset Beach Oahu
Kamehameha Hwy, Haleiwa, HI 96712
(near intersection of Paumalu Place)
November 24 or 25 to December 6

Heats start at 8am
The second jewel of the Triple Crown, a world championship event, evolved from humble beginnings in 1954 at Makaha Beach on West Shore Oahu.  But by the 1970's, surfing was starting to go big – both in popularity and in wave riding ability.  That signaled it was time to move the event to the Oahu North Shore.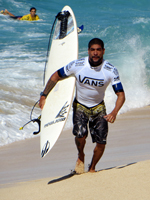 Sunset Beach has become the proving ground where legends are built – or broken – based on each surfer's ability to anticipate and accommodate the demands of a very fickle friend/foe.  When the conditions are big and clean, Sunset Beach yearns to make her masters look illustrious.  These swells form some of the most perfectly-formed waves you'll ever see – thick, strong, and beautifully hollow.  The wave faces are long and graceful, and they can re-form multiple times on the same wave – making for some incredible long rides.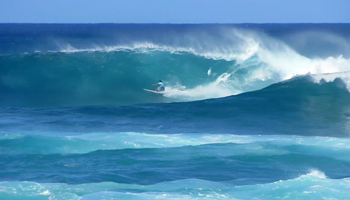 However, when the conditions are stormy or disorganized, Sunset Beach gets ugly.  Her raw power remains the same, but she starts to seem vengeful.  Sets build and break bigger and badder endlessly toward the horizon.  The peaks shift, keeping surfers guessing where they'll roar through next.  Currents fight to pull surfers out of position.  And where once there were beautiful tubes, turbulent close-out sections contribute to the chaos.  It's this inconsistency of conditions that makes the World Cup of Surfing my least favorite event in the Vans Triple Crown.  Nevertheless, seeing Sunset Beach on an excellent day is truly a bucket-list experience!
Billabong Pipe Masters: 3rd jewel of the Triple Crown: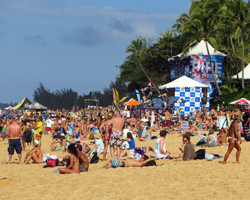 Banzai Pipeline at Ehukai Beach Park
59-337 Ke Nui Road, Haleiwa, HI 96712
December 8 to 20
Heats start at 8am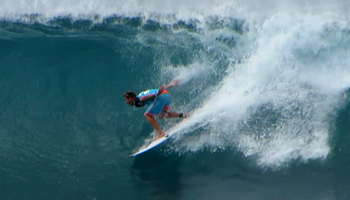 The final jewel of the Triple Crown is the only competition that pushes into the Christmas break.  As a result, this is the contest I used to watch most often, beginning as soon as I got my driver's license.  The minute those fall semester final exams were over, I was out on the beach at Ehukai!  But it isn't just the convenience that keeps me coming back.  Christmas breaks are now a thing of the distant past for me (sad but true), yet there's still something awesome about watching guys drop into the big, big barrels of Banzai Pipeline!  And that's what long lunch breaks are for at present…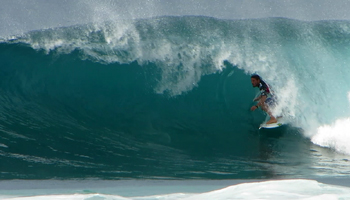 In case you haven't put two and two together yet, Banzai Pipeline gets its name because the waves are long and round like a section of pipe.  So this contest is all about getting deep inside the tube and then making it back out again.  That may not sound like much, but you've really got to see it in person to fully appreciate the primal beauty of it all!  The wave faces get so steep that many surfers will drag their hands in the wall to control their speed and stability.  And if they wipe out, it's twice as punishing: first they fall; then they get sucked back up and over the falls.  And if they're lucky it ends there, before they break anything on the dangerous reef hidden shallowly beneath the water's surface.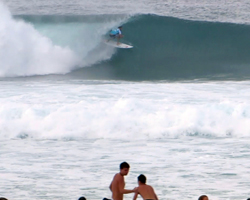 But if they get everything just right… position, angle, speed and nerve… the surfers might attain the ultimate goal for a few seconds – a fully-covered tube ride.
As if all of that isn't awesome enough already, what makes the Pipe Masters especially great for spectators is that you get a better view of all the surfing action.  This break often forms much closer to shore than at the other two events of the Triple Crown.  Thus, you'll get the IMAX experience without the IMAX price.  It's free!
Additional facts about the Vans Triple Crown of Surfing: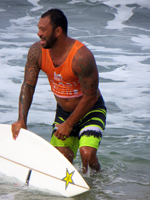 These three events were first held in 1983, and the first overall winner was Michael Ho.
Sunny Garcia has won more Triple Crown championships than any other surfer (1992, 1993, 1994, 1999, 2000, 2004).
Derek Ho and Andy Irons won the title four times each.  Derek Ho's legendary 8-second tube ride and resulting 1986 Pipe Masters win is still heralded as one of the greatest rides ever.
There are four surfers per heat.  The top two surfers from each heat advance to the next round.  Each ride is judged individually on a 10-point scale, and the top two wave scores for each surfer are combined to determine rankings.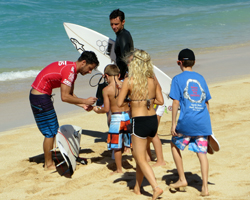 You are encouraged to take photos of the surfers in the water, on the beach, or on the stage.  However, if you want your picture taken with the pros (or if you want autographs), you need to wait until they are on the beach after a heat.

 
Was this information helpful?  If so, please give it a "Like" below so that more people will be directed this way...
Thank you for visiting!