About Hawaii-Vacation-Fun.com: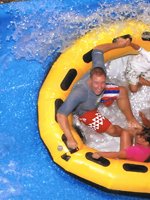 There's something different about this web site.  And it's a difference you're going to love if you're planning a vacation to Hawaii.  Whether you're trying to identify fun Hawaii activities for a family vacation, a cheap vacation, an adventure vacation, a romantic vacation, or any of a dozen other possibilities, this is the site that gives you more information than you'd likely ever need – in exactly the manner you want it!
How do I know that?  Easy.  This is precisely the kind of travel planning site I wish I could find every time I'm on the internet trying to plan a vacation to some other destination.  Aloha.  I'm Jake; and welcome to my site…
About the difference between this site and most others:
In case you haven't already noticed, there are over a million other web sites fully or partially dedicated to planning Hawaii vacations.  So why would I throw my hat into the ring with all that competition?  Because almost all of them have something in common… they're trying to sell you from the moment you click on the page.  They want you to book tours with them.  They want you to buy tickets from them.  They want you to make reservations with them.  And, oops, they forgot to give you information that answers your question in the first place.  Oh well, click the button to send them your money anyway.
Or do what most everybody does and get the heck off that page in search of one that will answer your questions… like Hawaii-Vacation-Fun.com.
I first moved to the island of Oahu, Hawaii in June, 1981.  Throughout most of the years that followed (especially during high school and college, and again now that my kids are old enough to join me), I've spent my free time trying to do every fun activity in Hawaii.  I do these things specifically because they're fun – not because I want to sell you a tour.  I believe that if I can't enjoy Hawaii like I'm on vacation, then I've got no business living here.
As a result, I guess you could call me an expert.  But, basically, I just love to have fun in Hawaii; and people notice that about me.  Every time I go elsewhere on vacation or business, people always ask me what they should do when they take their Hawaii vacation.  An hour later, I'll notice that I've talked too long and given them more activities than they could do in a month!  Well, Hawaii is an awesome vacation destination.  Can you blame me?
Nevertheless, that's when I realized I need to put my passion on the internet for easy access to everybody…
About my vacation planning style:
I spend months or even years saving for and planning my vacations; and when I'm going to fly halfway across the Pacific Ocean for vacation, I expect it to be worth every minute and every penny!  I assume that you're probably about the same.  In other words: I'm going to help you the way I wish others would help me.
Furthermore, I believe that the keys to a fantastic vacation are advance planning and the ability to make informed decisions about activities long before the vacation starts.  Plus, it doesn't hurt when you pick a world-class destination like Hawaii.
When I'm planning a vacation, I'm all about value!  I'll splurge on some things and then save on others.  There are plenty of fantastic Hawaii hotels and activities on which you'll want to splurge; and I say enjoy them for all they're worth!  Then to help you save on other activities, I'm compiling the most extensive list of free and low cost Oahu attractions that you'll ever find!  I'll also discuss discount hotels and activities.
About what i get out of this:
My primary motivation for building this site was the fulfillment of a glaring need for information that could benefit everybody who ever visits Hawaii.  The secondary motivation, however, was that I get to have fun doing it.  After all, I have to go back to all my favorite Hawaii activities and conduct "site research".
Additionally, some of the outbound links on my site will take you to other sites where you have the option to make purchases related to your Hawaii vacation.  For example: Hawaii-Vacation-Fun.com is a participant in the Amazon Services LLC Associates Program, an affiliate advertising program designed to provide a means for sites to earn advertising fees by advertising and linking to amazon.com.  If I link you to any kind of travel booking service, it's probably a paid affiliation.  Here's the thing though... I only partnered with companies where I have been a customer, or where I would be if the occasion arose.  Like I mentioned above, I like to do my "site research", and if that means I have to go on vacation to do it, then so be it.  Furthermore, I will not endorse products or services that I believe are total crap (you should see the list of affiliate offers I've declined for being totally worthless to Hawaii vacationers).
Beyond that, I just hope that I'm making it easy to turn your newly-developed dream vacation a reality.  Thank you for visiting my site.  I truly hope you have an outstanding visit to our island!  I've certainly had fun helping you plan it!