Hawaii Hiking: Fun, Free, Sometimes Historic,
and Other Times Extreme!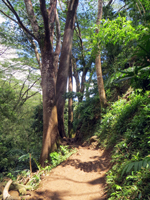 Let me start by warning you that Hawaii hiking often more closely resembles mountain climbing than the nature walks with which visitors are usually familiar.  I've taken avid hikers from the U.S. mainland out on some of the trails that I considered to be short and easy; and they were shocked by the strenuousness!
The good news for you, though, is that I'm now 20+ years older and fatter than I used to be.  As a result, I'm trying to tackle these hikes in my current state of physical fitness; and I'm bringing my children on many of them.  That way, I'll be able to give you a more realistic perspective than I could when I was in college.
Challenges aside, hiking in Hawaii can be very fun.  There are scenic hikes, historic hikes, and recreational hikes.  At least a few of these are fairly easy hikes.
Unfortunately, in writing this, I realized that several of my favorite hikes have no real trails. I just started following a stream or climbing the hill behind a friend's house. And favorites though they may be, I'm not going to send you anywhere that doesn't have an official trail. But in case I've already lost your confidence as it relates to Hawaii hiking, you could also book a guided trail trek:
Hiking Tours - CLICK HERE!
(Link opens a new window/tab).
Popular Hawaii hiking trails in the greater Honolulu area:

Diamond Head Crater: You can see this dormant volcano from everywhere on Oahu's south shore.  Hike to the top and see it all!

Manoa Falls Trail: Hike through a tropical rainforest to a picturesque waterfall.  This is one of the easiest (and muddiest) trails on Oahu.

Waahila Ridge Trail: Feeling adventuresome and have at least five hours to spare?  You can see nearly half the island from the top of the mountain, but getting there is grueling.
Judd Trail: A one-mile loop within the much-longer Na Ala Hele trail system that crosses from Nuuanu Valley to Manoa Valley and Makiki.
Moanalua Valley Trail: A mostly-level trail that passes by some historic ruins and petroglyphs.  It also connects with the Tripler Ridge trail if you want more of a challenge.

Aiea Loop Trail: A five-mile circuit through the mountains overlooking Pearl Harbor.  See an ancient Hawaiian heiau near the trailhead, and look for the wreck of a B-24 bomber alongside the trail.
Kaau Crater: Another long (5.5 miles), challenging, vertical Hawaii hike, but it has waterfalls, a crater, and great views!

Mariners Ridge Trail:

 It's ludicrous to call any top-of-the-mountain hike easy, but as far as they go, this one is probably your best bet for reaching the summit!

Koko Crater: A short, exhausting climb along a narrow railroad track straight up to the crater rim.  The angle of ascent starts at approximately 35 degrees and steepens to 50 degrees!

Makapuu Lighthouse Trail: This has to be the single easiest hike on Oahu – to the point overlooking the lighthouse.  If you decide to continue past that, it gets quite adventurous!

Pele's Chair Trail: A short, flat stroll out to a unique lava rock formation and, better still, to a secluded beach cove!
Popular Hawaii hiking trails in Windward Oahu:

Puu Maelieli Trail: A relatively-short but steep hike along the ridge of a hilltop to WWII training bunkers and the most incredible view of Kaneohe Bay!  Overlooks numerous Hawaii film locations.
Maunawili Falls Trail: A nice, muddy romp through the rainforest to a small waterfall and freshwater pond.  The water is almost deep enough for jumping from the surrounding cliffs.

Lanikai Pillboxes Trail: A relatively easy hike to the top of a low ridge where you'll see WWII ruins and an unmatched view over all of Kailua Bay, Lanikai Beach, and Waimanalo Beach!

Friendship Garden Kaneohe: This is a privately-owned garden that is open to the public.  It features a unique collection of tropical trees and a breathtaking view of Kaneohe Bay!
Popular Hawaii hikes on Oahu's north shore:

Kaena Point: One of two ways to get to the most remote tip of the island.  It's a beautiful north shore walk with plenty of tide pools along the way.
Popular Hawaii hikes on Oahu's west shore:

Kaena Point: The other route to the remote western tip of Oahu.  See rock arches and a spectacular view of Waianae Valley!
Was this information helpful?  If so, please give it a "Like" and/or "g+1" below so that more people will be directed this way...
Thank you for visiting!