Hawaii Adventure Vacation Activities: Extreme Free Fun!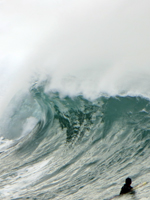 Looking to make your vacation more of a Hawaii adventure tour?  Believe me… there are plenty of fun ways to do that!  Activities range from exhilarating and/or daring to not-entirely-legal and/or downright stupid.
Naturally, I wouldn't have any personal experience failing to notice NO TRESSPASSING signs clearly posted everywhere and/or taking uncalculated risks; but since I've survived my youth to become a somewhat mature adult, the activities below are limited to adventure activities in Hawaii of the exhilarating and somewhat daring variety.
Disclaimer: All of these activities involve a little more risk than the average Oahu tourism activity.  I'm not recommending these activities.  I'm just giving you information so that you can use your brain and consider your abilities.   I wouldn't want you to ruin your vacation by doing something stupid.
Keep in mind that several Hawaii hikes also qualify as extreme Hawaiian adventure activities.  But if you're not in the mood to tackle a mountaintop, you might want to try one of these...
Hawaii adventure water activities:

Waimea Bay Hawaii: In the summer, you can jump off a 20-foot rock (a good beginner's cliff jump); and in the winter, you can watch the monster surf!

Kapena Falls: Jump off a 35-foot cliff into a freshwater pond.  I've made the splash more than 200 times, and each jump is as frightening as the one before!

China Walls: In the Portlock neighborhood of Hawaii Kai, this natural rock seawall has been sculpted by endless wave action and makes a beautiful backdrop for some fun pictures!
Spitting Cave: A 55-foot cliff jump into the mouth of a cave where waves crash in and then "spit" back out.  If nerve fails, you can still jump from the nearby, much-lower, china walls.

Toilet Bowl:

 Wave action "flushes" water in, around, and back out of this natural rock bowl.  If you're not prone to panic, it's safer than it looks and really quite fun.

Sharks Cove Hawaii: In the summer, this is a world-class snorkeling spot.  The diving takes on an extreme element when you swim through the lava caves beneath the cove's rock walls.

Sandy Beach Oahu: The shore break is so strong that even the smallest waves can knock you off your feet!  But every single wave is a near-perfect tube – great for body surfing!

Makapuu Lighthouse Tidepools: The lighthouse hike is easy.  However, it gets a lot more adventurous when you hike down the backside of the hill to explore the tidal zone at the bottom!

Surfing in Hawaii: Whether you're new to the sport or an old-timer, surfing is always a rush.  And when it gets too big for beginners to ride, it's great for spectators!

Snorkeling Hawaii: Many people consider skin diving to be a thrill.  But if that's not exciting enough, you can kick it up a notch and try your hand at spearfishing!
Hawaii adventure land activities:

Air Chair: Just big enough for one person to sit, this is one rock jutting out from the side of the cliff overlooking all of Manoa Valley.

Ice Blocking: There's no snow on Oahu, so we flip the sledding upside down!  A block of ice really moves on a grassy slope; and there's no parka required.
Haunted Hawaii: Hawaii has its fair share of ghost stories and haunted sites.  Experience the unexplainable for yourself – if you dare.

Rock Climbing Hawaii: Although lava is generally poor for any serious rock climbing, there are some spots where this has become a popular pastime.
Was this information helpful?  If so, please give it a "Like" and/or "g+1" below so that more people will be directed this way...
Thank you for visiting!