The Eddie Aikau Big Wave Invitational Surf Contest Remembers a True Hawaiian Legend!

Waimea Bay Hawaii
61-031 Kamehameha Hwy, Haleiwa, HI 96712
Opening Ceremony: 1st Thursday in December
3pm – 5pm

Holding Period: December 1 to February 28
Earlier today (November 2013), I was reminded of Eddie Aikau as I sat parked behind a beat-up, old Volkswagen Beetle with an "Eddie Would Go" sticker peeling off of the hood.  If you're wondering who this Eddie guy was and where he would go, I'll try to briefly summarize just some of the many highlights that have made his name a Hawaiian icon that's larger than life…
At a time when big wave surfing was dominated by non-Hawaiians, Eddie Aikau was one of the only native Hawaiians among an elite group of Hawaii surfing pioneers – the giant wave riders.  Eddie fearlessly and skillfully mastered the very biggest waves that had ever been ridden.  No matter how big, Eddie would go.  Then, due to a growing number of big-surf-related drownings, he became the very first City and County of Honolulu lifeguard at Waimea Bay; and as such, he saved hundreds of lives.  No matter how dangerous, Eddie would go.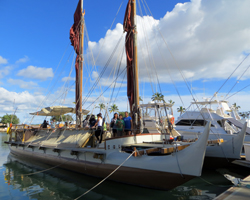 So, in March 1978, when he was given the opportunity to crew the Polynesian Voyaging Society's double-hulled voyaging canoe, Hokule'a, on a landmark crossing from Honolulu to Tahiti, Eddie went.  And unfortunately, he never returned.  Less than one day out to sea, the ship capsized in a severe storm.  When the crew's lives were in peril, expert waterman and lifeguard Eddie Aikau volunteered to go.  He took it upon himself to paddle his surfboard approximately 15 km (nearly 10 miles) to shore for help.  He was never seen again.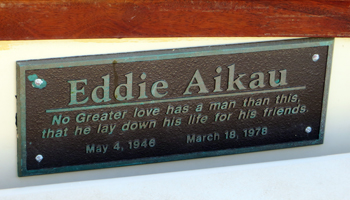 For a truly inspiring account of Eddie's life and death I strongly recommend watching ESPN Films 30 for 30 documentary: "
ESPN Films - 30 for 30 - The Hawaiian
" (link opens a new window/tab). It's extremely well done and very moving.
Eddie Aikau Big Wave Invitational: the biggest event in surfing:
The Eddie Winners:
1984/1985: Denton Miyamura
Feb 21, 1987: Clyde Aikau
Jan 1990: Keone Downing
Jan 1, 1999: Noah Johnson
Jan 12, 2001: Ross Clarke-Jones
Jan 7, 2002: Kelly Slater
Dec 15, 2004: Bruce Irons
Dec 8, 2009: Greg Long
Feb 25, 2016: John John Florence
Of all the great Oahu Hawaii activities on the Hawaii event calendar, the Quiksilver in Memory of Eddie Aikau Big Wave Invitational surfing competition ("The Eddie" for short) is by far the hardest to work into any Hawaii vacation planning.  That said, it's probably also one of the greatest spectacles you can ever see – if you're lucky!  Held on the world famous Oahu North Shore at the equally notorious Waimea Bay, this epic one-day event has been scheduled every winter since 1984 – and in the 30-ish years since then, the waves have been big enough to hold the competition only nine times.
The Eddie is almost impossible to plan for because the holding period is a full three months long (December through February); and it's unforgettable because the only factor determining whether they go is a truly gigantic wave height.  The event is held only when open ocean swells exceed a minimum height of 6 meters (20+ feet), which creates wave faces of 9 to 12 meters (30 to 40 feet)!  Furthermore, close isn't good enough, and the conditions must be clean…
Eddie 2016
In mid February 2016, contest organizers announced that Eddie Would Go.  I went out at 5:30am and ended up parking almost three miles down the road because I arrived after the thousands of people who either camped overnight on the side of the road or left even earlier than I did.  Unfortunately, the giant surf arrived about 8 hours later than expected, so Eddie postponed.  Two weeks later, while I was off-island for a business trip, the surf came up and Eddie went without me (again).  Reported to be the best ever!  Sorry, no pictures again.
I remember back in the early 1990's when I was out on dawn patrol (sunrise surf session) with several friends, and we stopped at Waimea Bay to see how it was breaking.  We all estimated the wave height at 5.5 meters (18 feet), which was much too big for any of us.  At the same moment, one of the Eddie Aikau Big Wave Invitational contest organizers ran up to check the surf also.  She confirmed our estimate and stated flatly: "not big enough."
The unpredictability of the Quiksilver in Memory of Eddie Aikau Big Wave Invitational surf contest has prevented me from ever being able to watch it live, and I live here!  Every time, it was held, I was at school or work or off-island (sigh).  So I had to watch the highlights on television and look at other people's amazing photos.  As a result, for the moment, I don't yet have any event photos of my own to post here for your enjoyment.  So cross your fingers for enormous winter swells this year, and let's hope I can take an extra long lunch break!
The big deal about the Eddie Aikau Big Wave Invitational: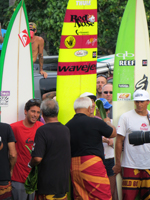 In case you're not sufficiently impressed by the statistics of 12-meter wave faces, consider the following.  Waves of that height are big even by Hawaii standards, and North Shore Oahu is world renowned for big waves.  Think of it this way… if the average surfer stands 1.75 meters tall, he'll be careening almost out of control down a near-vertical wall of water six or seven times his height and almost as thick!  But if that's not awesome enough, it can also form a frighteningly beautiful tube.  You really have to see it to believe it.  And once you do, you're never going to forget!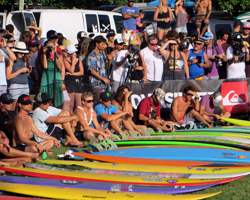 The only firmly-scheduled event is the opening ceremony, which occurs on the first Thursday in December from 3pm to 5pm at Waimea Bay.  This ceremony brings all 28 of the invitees and contest organizers together for a special memorial with the surviving members of the Aikau family.  Though not an adrenaline fest like the actual contest, this ceremony is a great opportunity to get up close and personal with the surfers while also paying your respects to a true Hawaiian legend.  After that, it's just a waiting game to see whether or not The Eddie will go.
Keep in mind that the Eddie Aikau Big Wave Invitational holding period overlaps with the Vans Triple Crown of Surfing, located just down the road at Sunset Beach or Banzai Pipeline.  I don't recall ever hearing that both events ran concurrently, but The Eddie happens so infrequently that I couldn't say for sure.
Helpful tips for enjoying the Eddie Aikau Big Wave Invitational: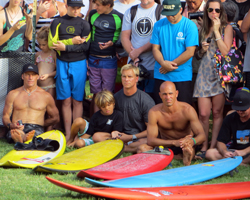 Call the Hawaii Surf Report 808-596-SURF (7873) every day at 7:30am, and possibly again at 5:30pm for updates and forecasts.
Sign up for email alerts at the official Quiksilver in Memory of Eddie Aikau web site (link opens a new window/tab). 
Have a plan for parking.  This is the biggest surfing event there is.  The parking lot is going to be packed with cars, and it will quickly overflow onto all surrounding streets.
Have a plan for your comfort.  The beach and roadsides surrounding the bay are going to be packed with people.  Bring beach chairs/mats, sunscreen, refreshments, and anything else you might need for several hours in the open.  There are bathrooms and water fountains.  There might even be food trucks.  But beyond that, you'll need to be self-sustained.  There are no stores within convenient walking distance.
Bring binoculars.  The closest viewing point is along the road on the right-side of the bay, but space is very limited there.  Even so, the best views are still improved with binoculars.
Stay away from the water's edge.  We're talking about some of the biggest surf in the world.  You'll be in a world of hurt if you get too close.
Was this information helpful?  If so, please give it a "Like" below so that more people will be directed this way...
Thank you for visiting!