Aiea Loop Trail: an Introduction to Hawaii hiking.

Keaiwa Heiau State Park
99-1849 Aiea Heights Dr, Aiea, HI 96701
April 1 to Labor Day: 7am-7:45pm

After Labor Day to March 31: 7am-6:45p
I first hiked the Aiea Loop trail 30-ish years ago on a rainy day.  Yeah… that was a mistake.  It was a 7.7 km mud bog that has us slipping, sliding, and falling for the entire length of the trail.  After that, I never felt compelled to go back there again.  Been there.  Done that.  Good enough.
Note:
Nowadays this trail is called by the misleading PC name of Keaiwa Heiau Loop trail (even though the trail leads away from the heiau rather than toward it).
But then I created this web site; so I needed to go back to the Aiea Loop trail for a fresh perspective and some fresh pictures to show you.  I went on an absolutely gorgeous day in July (the kind of day that I would rather be hiking Puu Maelieli), and I'm happy to report that the whole thing wasn't a mud bog – only about 1 km of it was a muddy mess.  The rest was okay.  Even so, this still just isn't my favorite Hawaii hike.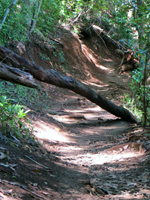 If this was a muddy trail leading to a waterfall, that would be one thing.  I'd say put on your boro boroz (old, worn-out clothes) and go have fun.  But this trail goes nowhere.  It's just a circle.  I can get mud elsewhere without the sense of futility.
But I don't want my apathetic opinion to cheat you out of some possible enjoyment, so I'll run through the pros and cons, and you can decide for yourself whether the Aiea Loop trail sounds like a trek you want to tackle…
Considerations when deciding whether to hike Aiea Loop:
Pros:

It's a relatively easy hike with gradual slopes.
It's well shaded throughout significant portions of the trail, which keeps it cool.
It's a good trail for kids who can walk more than 7 km (approximately ages 9 and up).
Views include everything from Schofield Barracks in Wahiawa (the middle of the island) to Pearl Harbor to Halawa Valley (H3 freeway), Tripler Army Medical Center, and even Diamond Head.
The Aiea Loop trail passes through a fantastic mountain forest with groves of giant eucalyptus, strawberry guava, paperbark, bamboo, and Cook Island pines, ironwood, Hawaiian koa and ohia.
There is a crashed World War II B-24 bomber along the trail.
There's a halfway decent chance you'll see a family of wild pigs.
There are restrooms, water fountains, and picnic areas.  The park is well-maintained and attractive.
The entrance to the park (before you get to the trail) features a fully-restored ancient Hawaiian

heiau

(temple) that is definitely worth seeing.

Cons: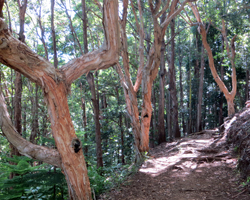 It truly is a beautiful forest.  And the pigs seem to be very tame, because I've seen them up on the road next to people and cars.  But to me, the plane crash is one of the most interesting aspects of this trail, so I was very disappointed that I could no longer find it.  If you can't find it either, there's a plaque near the upper trailhead that will tell you the basics about this fateful flight.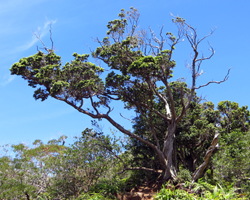 Tips for hiking aiea loop trail:
So you've decided that the pros outweigh the cons for you.  Great!  I want you to have a good time on the Aiea Loop trail; so here are some tips that I hope will help…
Wait until a dry day after several consecutive dry days.  Unless you really enjoy slogging through the mud, you'll thank me for this one.  If you choose to go in less optimal conditions, bring lots of old towels, a change of clothes and some plastic bags for your shoes/clothes (unless you just decide to throw them away at the end).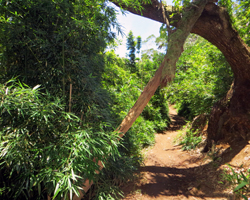 Even though it's shady and cool, that's not an excuse to neglect using sunscreen and carrying plenty of water.  You'll still get enough sun exposure to burn; and you'll still get dehydrated.  Be smart and be prepared.  At a leisurely pace, this trail can take 2.5 to 3 hours to hike the full length.
If you're hoping to see the WWII plane crash, I wish you luck.  So was I.  I went back and forth along the section of trail from which it is supposed to be visible three times looking for a marker sign and/or for a glimpse of the wreckage.
It's located a short way down the trail from the H3 tunnel overlook, on the east arm of the loop, down in the gulch on the west side of the trail.  Unfortunately, that describes a nearly-two-kilometer stretch of the Aiea Loop trail.  And it's impossible to explain it any better than that: just look for the trees… it's near the trees.  Like that will help.  I wanted to geo-tag my photos so I could just give you GPS coordinates, but that didn't work out for me.  So all I can say for sure is that the wreck was a lot easier to see 30-some years ago.  Sorry.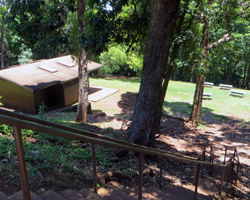 As the name implies, the Aiea Loop trail forms a loop; but it doesn't start and end at exactly the same spot.  I suggest starting at what would normally be considered the end of the trail.  This lower trailhead is barely harder to find than the upper trailhead, but it's worth it.  Just drive to the second parking lot (the first past the sign pointing to the campsites, trail, and picnic area).  Walk down the stairs (or the trail behind the restroom) to the back left corner of the grassy field/picnic area.  And here's why you'll want to do so…
The muddiest part of the trail is the last half-kilometer (if you start at the upper trailhead).  So if you start at the end, you get through the worst part first; and then you're free to enjoy the rest of the trail.  On a dry day like the one I chose, that can make a huge difference. By the time I got back to my car, my shoes were dry and free of mud.  It would have been the exact opposite had I started at the upper trailhead.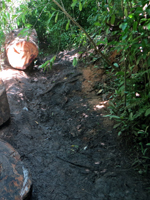 You have to walk a short but steep section of the paved road from whichever end of the trail back to your car.  If you start at the lower trailhead, this steep section of road that follows your 7.7 km hike will all be downhill.  But if you start at the upper trailhead, you'll be walking up (immediately after your uphill slog through the mud).
Stay safe and have fun.  You probably won't cross paths with me out there, though… at least not for another 30-ish years or so.  I'm going to go do a waterfall hike (sorry, the waterfall is on private land, so it will have to remain a secret for locals only)!
Was this information helpful?  If so, please give it a "Like" below so that more people will be directed this way...
Thank you for visiting!