Discover Pele's Chair and a Rare Secluded Oahu Beach!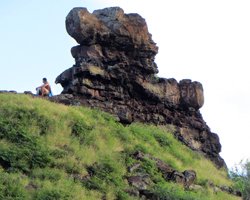 Kalanianaole Highway (Hwy. 72)
(at the eastern tip of Oahu)
7am – 6:45pm, Daily (Winter)

7am – 7:45pm, Daily (Summer)
Pele's Chair is a seat-shaped lava rock formation located approximately dead-center between half-a-dozen different dormant tuft cone volcanoes on the eastern tip of Oahu.  In this case, the Pele we're talking about is the legendary Hawaiian volcano goddess – not the Brazilian soccer legend.  So that's why it makes sense that her chair would be out in the middle of a lava field...
The seat landmark itself is easily visible from the parking lot and/or from the Makapuu Lighthouse trail, so if all you want to do is see it and take a picture, then this Hawaii hike is little more than a short diversion.  It will take you approximately 15 minutes to walk the 1 km (0.6 miles) from trailhead to the Pele's Chair rock formation.  And because this Kaiwi Shoreline trail is almost entirely flat, this is an easy stroll that you could do even in casual footwear.  The trail itself is well-packed dirt surrounded on both sides by tall grass.  But, honestly, looking at a pile of rocks isn't that big a deal…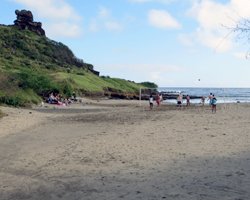 However, directly below Pele's chair is a secluded cove of crystal-clear water and surprisingly expansive clean white sand.  Plan to add some play time at this semi-private beach – one of the few left on Oahu – and you've got yourself a nice little excursion!  The cove is fairly protected from the usual rough surf in the area, so unless waves happen to be rolling directly into the cove that day, it's often a safe place to swim and/or go snorkeling.  There's a soft, sandy bottom and even some tide pools to explore.
Hiking the Kaiwi Shoreline trail: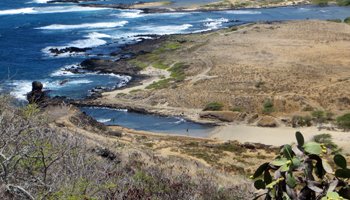 The trailhead is at exactly the same location as the Makapuu Lighthouse trail.  Parking is usually adequate if you arrive before mid-day.  Then, instead of walking uphill along the paved road to the left, follow one of the two dirt path forks down to the right and they'll both get you to Pele's Chair.  Once you get there, you can enjoy a gorgeous view of the Kaiwi coastline and Koko crater…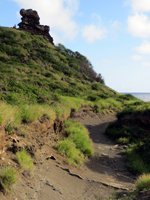 Look out across the Kaiwi Channel on a clear day and you should be able to see the islands of Molokai, Lanai, and Maui!  If you're there between approximately December and May (January to March is best), you should also keep your eyes open for migrating humpback whales.
The trail itself, however, is not much of a nature walk.  Don't let these pictures fool you.  I did this hike in January after it had rained for two or three weeks.  Normally, this part of the island is as dry as a desert; and the plant life usually comes in various shades of brown.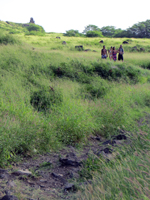 There are no facilities (water fountains and/or restrooms) along the Pele's Chair trail.  The nearest such facilities are down at Makapuu Beach.  You'll want to take care of business before you start hiking and bring plenty of water.  You'll also want to make sure you apply plenty of sunscreen, because there is precious-little shade along the trail and/or at the beach.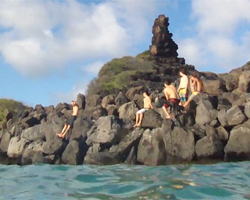 Although the cove below Pele's Chair is relatively safe from the surf, the closer you get to the open water (and/or to the water's edge when you're up on the rocks), the more dangerous things become (especially when your back is turned to the waves).  If you're not careful, these waves could easily knock you into all kinds of peril!  So pay attention to what's going on around you.  There is no lifeguard at this remote location so your decision to play in or around the water is at your own risk.
Disclaimer: Stupidity and carelessness can kill you.  Use your brain and take responsibility for your own safety.  Know the limits of your ability and stay within them.  Watch your kids like a hawk.  Heed posted warning signs.  Never turn your back to the waves.  Take this guidance, mix it with your own good judgment, and live to enjoy the rest of your Hawaii adventure vacation.
Was this information helpful?  If so, please give it a "Like" below so that more people will be directed this way...
Thank you for visiting!