Hawaiian Torch Lighting Ceremony and FREE Hula Show
at Waikiki Beach!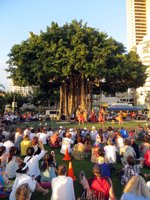 Kalakaua Ave., Honolulu, HI 96815
(at the intersection of Uluniu Ave.)
Every Tuesday, Thursday & Saturday
6:30pm - 7:30pm (Feb-Oct)
6pm - 7pm (Nov-Jan)
I used to watch the Hawaiian tiki torch lighting ceremony and free hula show from the water while I was out surfing.  That's not the best seat to see this fun Hawaii attraction, but I was having my own good time regardless.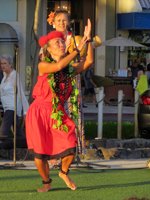 However, if you actually want to pay attention to the show, which is performed at the Kuhio Beach hula stage (near the Duke Kahanamoku statue), I recommend moving up into the nearby sand or surrounding grass area.  (Crowds start to reserve their seats in the grass starting about 30 minutes before the show.)
The torch lighting ceremony and free hula show is an hour-long performance held year-round, every Tuesday, Thursday and Saturday (weather permitting).  And in addition to seeing everything promised in the name, the various elements of the performance are tied together with some popular Hawaiian songs and a lighthearted narrative about Hawaii history and Hawaii culture.  It's a little corny, but it will probably still make you laugh.  It's fun... and that's what you want on a Hawaii vacation.
What you'll see at the torch lighting ceremony and free hula show: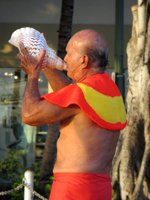 For starters, the torch lighting ceremony itself is really a rather brief portion of the overall performance.  The commencement is announced with the blowing of trumpet-like fanfare on a Hawaiian conch shell.  Then a man costumed in a traditional Hawaiian ceremonial cape wades through the crowd and lights the torches around the edge of the beachfront dais.  From that point forward, it's basically songs, anecdotes, and the free hula show.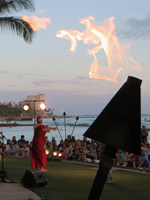 Honestly, I believe this bit of free Waikiki entertainment is one of the true, value-added experiences that can make your Hawaii vacation special.  I've been to a lot of beaches around the world, and not a single one of them had a free hula show and torch lighting ceremony.  And this is just one of many free things to do in Waikiki!
Click here to see an updated schedule of performances (link opens a new window/tab).
That said… the overall quality of the performance isn't quite the same as the dancing and music I've become used to at world-class hula competitions, nor even at the paid-entrance luaus.  Nevertheless, it is free; and it is right on Waikiki Beach; and the crowd seems to really enjoy it!  Those factors alone make it awesome!  So don't let me deflate your opinion of it just because I've heard all the corny jokes before and I happen to be friends with some fantastic hula instructors and competitors.
A perfect afternoon at Waikiki Beach: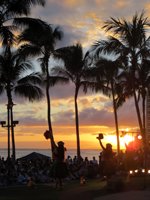 I took my family down to Waikiki Beach the day before Mother's Day.  It was sunny and warm, but not hot.  There was a very nice breeze, but nothing too strong.  The ocean was the absolute perfect temperature.  There were only enough clouds to beautifully emphasize the sky's hues.  My kids played in the shallows and dug a deep hole in the sand while all the other kids on the beach crowded around wanting to get in.  The sunset was spectacular.  The new moon was barely visible above the horizon…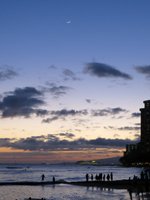 Basically, everything was as good as it gets anywhere; and everybody on the beach knew it.  Even as twilight faded into darkness, the beach was still packed with people, and most of them hadn't even gotten out of the water yet!  Getting to watch a free hula show and torch lighting ceremony in addition to all of that was just icing on an already glorious cake!
By the way… my friend Steve would like everybody to know that his dad invented those tiki torches (he only told me 100 times).
Was this information helpful?  If so, please give it a "Like" below so that more people will be directed this way...
Thank you for visiting!