Waikiki Beach Makes Hawaii Vacations Fun!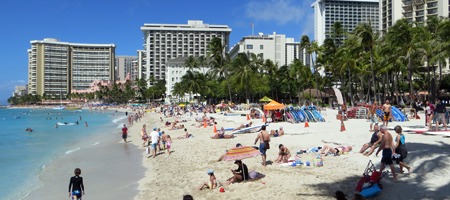 Waikiki Beach is the classic Hawaii attraction.  It's traditionally thought of as the stretch of sand from the Hilton Hawaiian Village down to around the historic Natatorium swimming stadium.  And there are many good reasons why it's one of the most popular visitor activities to do in Hawaii!
Normally, I avoid crowds.  But even though overcrowded Waikiki Beach is almost cliché, it still has a lot to offer even the most reclusive beachgoer.  In fact, it offers something for just about everybody.
In addition to all the visitors, many locals regularly enjoy activities on Waikiki Beach.  It's a fun place with lots of free things to do...
Personally, I usually go for the surf, fireworks, picnics and parties, or the Waikiki entertainment.
Here's a tip: you can get daily use of beach gear and a bodyboard or surfboard rental using the Go Oahu Card…
Over 30 Oahu Attractions, Tours, Museums, Activities & Sights for 1 Low Price are included with the Go Oahu Card!
Link opens a new window/tab.
Catch a wave at Waikiki Beach: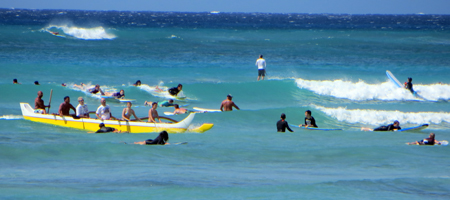 For those who want to learn to surf, there's no place better than here!  The size and shape of Waikiki waves are ideal for first-timers to get their feet wet.  In fact, a multitude of locals paddle out there regularly just because the waves are easy to reach and fun to ride.
If you decide to rent a board and give the waves a go, let me offer the following advice...
The best area to learn is down near the Duke Kahanamoku statue.  Just look for the canoes and rental board racks.  There are lots of boards to rent, and the paddle is a lot shorter than elsewhere in Waikiki.

You are likely to have a much harder time paddling out than attempting to stand up.  Most people don't use their paddling muscles regularly, and they tire quickly.  So don't worry about standing up until you actually get out to the waves.  And if you rented a 10' board, you don't need to worry then either; it's almost as easy as standing up on a sidewalk.

To turn this floating sidewalk, you have to walk back toward the tail until you can raise the nose up out of the water and swing it around in the direction you want to go.

Even though the Waikiki Beach regulars are used to the slalom of overcrowded conditions, you should still look to make sure you aren't dropping-in right in front of somebody.  That's not cool.  Dads pushing their kids are usually among the worst offenders on this one.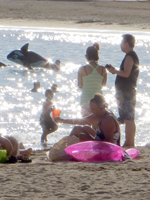 The best sandbox your kids will ever experience:
Minus the dubious dodging abilities of first-time surfers on the rental equivalent of floating sidewalks, Waikiki Beach is great for children.  Just make sure you keep your eyes open for the aforementioned human hazards.
There's plenty of clean, white sand for building castles, burying people (and room keys), and throwing at siblings (not recommended, but likely to happen anyway).  Furthermore, the shore break conditions are generally so mild that even the youngest children can keep their feet planted firmly below them.
Things to do on Waikiki Beach: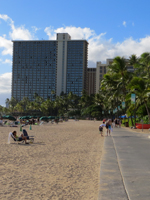 Between Kapahulu Avenue and the Hilton Hawaiian Village lagoon, a stroll along the beach walk provides countless opportunities for people-watching, pick-up games of beach volleyball, free live entertainment from just outside numerous hotel beach bars, sunsets, fireworks, photos of Diamond Head and/or photos of some guy walking around with an exotic bird on his shoulder.  I couldn't tell you if the bird guys charge for photos or if they just want an opportunity to pose with bikini babes.  I've always just assumed it was the latter.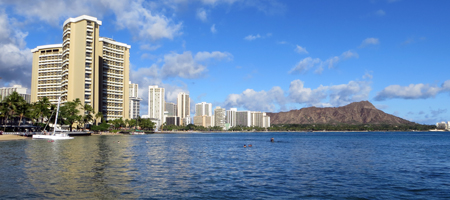 The stretch of beach from Kapahulu Avenue to the Waikiki Aquarium – commonly called Queens Beach – is generally popular with the gay community.  There is nothing that officially designates the area as being set aside for same-sex couples – it's more of an informal adoption.  Quite honestly, though, you could walk along this stretch of beach and never notice any difference.
Free movies on the beach:
Occasionally, on the beach across the street from the Honolulu Zoo, the City and County of Honolulu sponsors an event called Sunset on the Beach.  This uniquely Hawaii activity usually involves free live entertainment leading up to a free feature film showing (at dark, of course) and a variety of food trucks and vendor booths.  This event is usually well advertised around Waikiki and in numerous publications, so it's fairly easy to check event dates – but all you really have to do is look for the crowd.
Was this information helpful?  If so, please give it a "Like" below so that more people will be directed this way...
Thank you for visiting!