Free Twilight Summer Concert Series
at Foster Botanical Garden!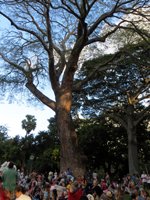 50 North Vineyard Blvd, Honolulu, HI 96817
Thursdays (in June & July)

4:30pm – 7pm (concert: 5:45pm – 6:30pm)
The Twilight Summer Concert Series at the Foster Botanical Garden is a perfect way to enjoy Hawaii's ideal summer climate, lush tropical beauty, and fun Honolulu entertainment – all for free!  Throughout the months of June and July on Thursdays, this annual Hawaii activity features new performers each week (often, but not exclusively, of the brass band genre).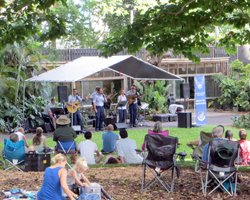 Primarily intended to be a pau hana event for people who work in the adjacent downtown Honolulu business district, The Twilight Summer Concert Series is also an excellent opportunity for visitors to tour the historic Foster Botanical Garden at no cost!  And here's why that's a big deal:
Free entertainment sets a much better mood than the normal traffic noise that normally surrounds the garden.
Foster Botanical Garden contains 24 trees that have been designated "exceptional" by the County Arborist Committee – nearly a quarter of all such trees on Oahu!  Many of these trees were planted in 1853.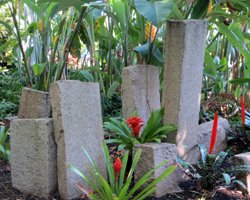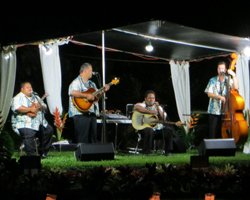 In all honesty, I don't get to enjoy these Hawaii special events nearly as frequently as I might like, because I work on another part of the island and seldom finish early enough to attend.  But if you're on vacation and/or working in Honolulu, one of these concerts is an easy Hawaii event calendar activity for you!  Just bring your own lawn chairs or blankets and relax to the smooth sounds in Honolulu's urban piece of paradise.
---
Twilight Summer Concert Series schedule of performances:
June 2019

6: Army Music 25th Infantry Division

13: Royal Hawaiian Band

20: Discord & Rye

27: Patriotic Sing Along/Celtic Pipes & Drums

July 2019

4: Independence Day - No Concert

11: Hale Hou

18: US Air Force Hana Hou Band

25: Tapestry
For complete details, see the official Twilight Summer Concert Series calendar (link opens a new window/tab).

---

Free Midsummer's Night Gleam family night: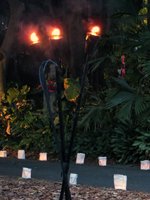 50 North Vineyard Blvd, Honolulu, HI 96817
Saturday, July 20, 2019

4pm – 9pm
As a sort of finale to the Twilight Summer Concert Series, Foster Botanical Garden also hosts a free "Midsummer Night's Gleam" Saturday family night, complete with concert, dancers, a lion dance, children's activities, and more!  The gleam refers to the hundreds of luminaries that line the trails throughout the garden.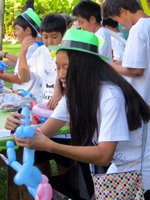 This event is very well attended; and it is definitely intended to be family-friendly fun.  When my family went, the children's activities included a painting area, balloon animals, archery, fencing, storytelling, and a "haunted" garden.
In addition, scattered around the garden were several impressive, life-size animals made from plant materials.  My kids had a great time.  And the adults enjoyed getting to relax and picnic in the garden.
Deciding whether to attend events at Foster Botanical Garden:
Normal Admission Fees: (waived for these events)
General (ages 13 and up): $5.
Kamaaina (ages 13 and up): $3.
Child (ages 6-12): $1.
Child under age 6: Free
Normal hours: 9am – 4pm
I personally don't enjoy crowds – especially when I'm specifically trying to admire and appreciate nature.  On the other hand, I don't like paying for things that I can do for free.  So here's my take…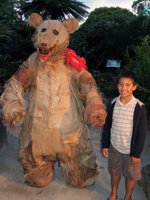 If crowds will detract from your enjoyment of the garden, go at a different time and pay the normal admission (see sidebar at right).  Just remember that you'll still have plenty of adjacent traffic noise, so it's never going to be a true retreat into nature.  If, however, you're specifically interested in the experience and free entertainment, then by all means go and have a good time!  The crowds did not detract from my appreciation of the garden at all – and I saved a few bucks!  That's a win-win as far as I'm concerned.
Was this information helpful?  If so, please give it a "Like" below so that more people will be directed this way...
Thank you for visiting!