Wave Action at Halona Blowhole Wows/Wets Onlookers!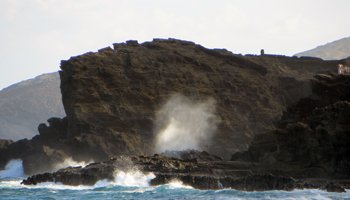 8699 Hawaii 72, Honolulu, HI 96825

(uphill, next to Sandy Beach Oahu)
One of Hawaii's many natural wonders: the Halona Blowhole thrills spectators with Mother Nature's own water fountain show!  Normally, there wouldn't be much to say about a hole in a rock… but this one shoots seawater – and sometimes lots of it!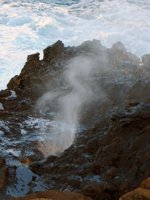 Because of the way lava often cools and hardens faster on the surface while molten rock continues to flow beneath the surface,  it is common to find lava tubes just about everywhere you find lava rock.  In this case, the Halona Blowhole is one such tunnel that opens out to the ocean.  Thus, when waves crash into the rocks, water gets funneled through the tube and launched straight up out of what otherwise looks like solid ground – like a wave-powered geyser! 
When the surf is small, you can usually see a light mist shooting up 10 to 15 feet.  However, when the waves are just right (often in the winter months), the resulting spectacle is an explosion of water that will shower you and the other onlookers at the top of the cliff!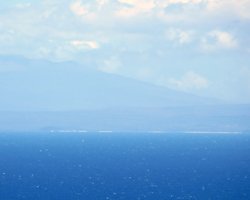 Scenic Hawaii sights at Halona Blowhole:
In addition to the spouting water, on a clear day, you can see the islands of Molokai, Lanai, and Maui across the channel from the blowhole.  In approximately January through March, you also have a fairly good chance of seeing migrating humpback whales.  You can also see Sandy Beach and the back side of Koko Crater.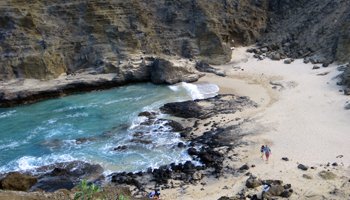 To the right of the lookout (when facing the water) there is a small beach officially called Halona Cove.  However, this secluded spot is commonly referred to as From Here to Eternity Beach due to its fame as the film location of a love scene between Burt Lancaster and Deborah Kerr!  Needless to say, this is still a popular location for honeymooners and other couples.   If you get the urge to try to recreate that movie poster kiss in the shore break… well, more power to you.  But even without the old movie cheese, it's still a nice, sheltered little stretch of sand that you can have virtually to yourself.
Be a smart spectator at Halona Blowhole:
You can get great pictures from both the Halona Blowhole lookout and from nearby Sandy Beach (downhill, to the left when facing the water).  I mention this because there are signs posted everywhere indicating that you should not climb down to the blowhole.  Invariably, however, just about any time you go, people will climb down there anyway.  Not only does this ruin everybody else's photos, but every now and then we get to read in the newspaper about somebody getting himself killed down there.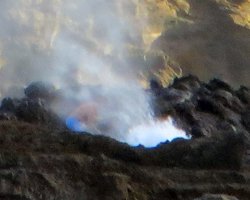 The idiots who ignore me and the signs and the lifeguards yelling at them from Sandy Beach all seem to think it will make a better photo if they're in it; but all they're doing is documenting their own bad judgment.  Think about it for a second...  for water to shoot 30+ feet in the air out of solid rock takes a lot of force.  Standing above that force is going to be like getting punched in the privates or in the face.  The water will lift you up off your feet and drop you back down into the hole.  Then it will try to suck you back out to sea.  The last successful suicide was in June 2002, but another guy came really close a few weeks before I updated this page in June 2013.  Don't be that guy.  Death is a bad way to end your Hawaii vacation.
Was this information helpful?  If so, please give it a "Like" below so that more people will be directed this way...
Thank you for visiting!