Hawaii Bon Dances: A Long History of Summertime Fun!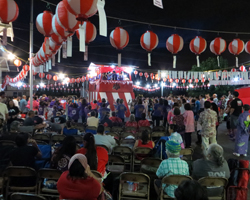 June through August
Every Friday and Saturday Evening
Multiple Locations throughout Oahu
Talk to just about anybody at a Japanese Bon dance in Hawaii, and here's the first thing they'll ask you: "do you come to this one every year?"  There are two reasons for this question.  First: people go to these enormously popular Hawaii festivals every year; and second: people have a tendency to participate in the festivities at many different temples from week to week or year to year.  Although there's a temple in every community, the crowds attracted by these events are not limited to the people in those communities.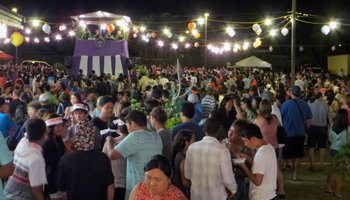 Obon is a Buddhist custom that originated more than 500 years ago in Japan and came to Hawaii with the Japanese immigrant workers of the nineteenth century.  This is not my native culture, so I'm not going to claim to be any kind of expert on this topic.  In fact, my first Bon dance (as a teenage boy) had more to do with a teenage girl than it did with any overriding curiosity about the cultural aspect of the event.  The girl and I never worked out.  But I still go to some Bon dances.  They're not my all-time favorite Hawaii things to do, but I have fun when I do go.  And so do thousands of other people!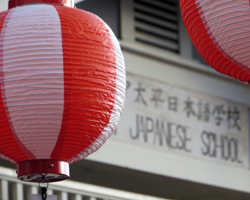 As I started to explain, Japanese Buddhism is a major ingredient in the stew pot of flavors that form modern Hawaii culture.  And Obon is celebrated as a time to remember your ancestors.  As a result, these festivals are very family-oriented activities; and they're often attended by three or even four generations within each family!  Each weekend throughout the summer, one or more of the Japanese Buddhist temples (and some other organizations) throughout Hawaii hosts a one-or-two-night festival – all of which are open to the public…
Experience local style food and fun: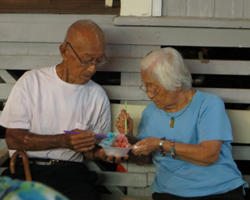 You don't have to be a neighborhood resident or Japanese or Buddhist to have a good time.  Common elements from one temple to the next are tasty local treats and the Bon-Odori (Bon dance).  Beyond that, the commemorations vary from one location to the next.  Admittance is free, but you'll want to bring some cash (not credit cards) because these events are fund raisers for the various organizations that host them – and you're going to want to buy some andagi (Okinawan doughnuts) and possibly some other foods and souvenirs.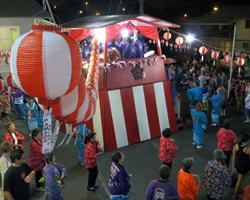 The Bon dance itself is perhaps adequately described as line dancing (like you would do at a disco or a honkey tonk or a high school dance) but in a circle, around a specially-constructed tower bandstand called the yagura.  The key difference here, however, is the music.  You probably won't hear The Hustle or The Electric Slide.  But you will hear approximately three hours of distinctly-non-club-mix music – some live, and some recorded; some traditional, and some less so.  Better still, there's no bar atmosphere.  So there's no alcohol.  There's no smoking or drugs or gangs.  It's just good, wholesome, fun – perfect for family vacations in Hawaii.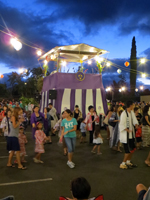 Most of the participants know the dance steps because they attended practice sessions in the weeks prior to the event.  However, if you're eager to participate and comfortable learning on the fly, you're welcome to step right out there into the ring with everybody else.  Most dances appear to be fairly slow and simple.  Just watch the dance leaders on the innermost ring of the circle, and you'll probably get the hang of it fairly quickly.  I, however, don't go to dance.  I go for the food, fellowship with friends and community, and some of the other activities…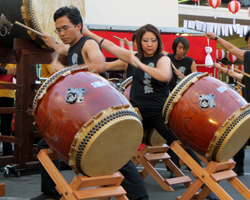 Many Bon Dances begin with a Taiko drum performance.  These are really cool – especially when you get a group of about 12 to 20 drummers!  Some Obon festivals include lantern parades and floating lantern services.  Some have open markets.  Some have games and crafts.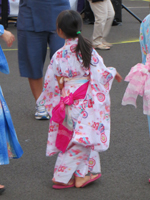 In addition to all this, I just really enjoy seeing so many people wearing traditional Japanese kimonos and robes while everything is decorated with bright colors and paper lanterns.  It's a sensory experience that many Hawaii visitors will consider to be exotic and exciting.  It's definitely not required to wear traditional attire though.  Most people, myself included, show up in shorts and T-shirts.
2018 Oahu Bon Dance Schedule:
Check this 2018 Oahu Bon dance schedule for the location near you and/or your favorite place to celebrate the Obon.
June 2018:
2 (5:45pm; food booths 4:30pm): Hawaii Plantation Village: 94-695 Waipahu St, Waipahu
15 & 16 (7pm - 10pm): Heleiwa Jodo Mission: 66-279A Haleiwa Road, Haleiwa
16 (7pm - 10pm; food booths 5:30pm): Ewa Hongwanji Mission: 91-1133 Renton Rd, Ewa Beach
22 & 23 (6:45pm): Wahiawa Hongwanji Mission: 1067 California Ave, Wahiawa
29 & 30 (6pm): Honpa Hongwanji Hawaii Betsuin: 1727 Pali Hwy, Honolulu
July 2018:
6 & 7 (5pm - 10pm): Moiliili Hongwanji Mission: 1100 University Ave, Honolulu
7 (6:30pm - 10pm): Kaneohe Higashi Hongwanji: 45-520 Keaahala Rd, Kaneohe

13 & 14 (7pm - 10:30pm): Koboji Shingon Mission: 1223B N School St, Honolulu

13 & 14 (6:30pm - 9:30pm): Rissho Kosei-Kai Hawaii Kyokai: 2280 Auhuhu St, Pearl City

13 & 14 (7pm - 10:30pm): Shinshu Kyokai Mission: 1631 South Beretania St, Honolulu
13 & 14 (7pm - 10:30pm): Haleiwa Shingon Mission: 66-469 Paalaa Rd, Haleiwa

14 (7pm): Waipahu Hongwanji Mission: 94-821 Kuhaulua St, Waipahu
20 (6pm - 9:30pm): Jikoen Hongwanji Mission: 1731 N. School St, Honolulu
20 & 21 (7pm - 10pm): Higashi Hongwanji Mission of Hawaii: 1685 Alaneo St, Honolulu
20 & 21 (7pm - 10pm): Wahiawa Ryusenji Soto Mission: 164 California Avenue, Wahiawa

21 (7pm): Waianae Hongwanji Mission: 85-762 Old Government Rd, Waianae
27 & 28 (6:30pm - 9:30pm): Palolo Higashi Hongwanji: 1641 Palolo Ave, Honolulu

28 (6pm): Kailua Hongwanji Mission: 268-A Kuulei Rd., Kailua
August 2018:
3 & 4 (5pm - 10pm): Manoa Koganji Temple: 2869 Oahu Ave, Honolulu

3 & 4 (7pm - 10pm): Waipahu Soto Zen Temple Taiyoji: 94-413 Waipahu St, Waipahu
4 (4pm - 9pm) Byodo-In Temple: 47-200 Kahekili Highway, Kaneohe
4 (7pm): Waialua Hongwanji Mission: 67-313 Kealohanui St, Waialua
10 & 11 (7pm - 10pm): Pearl City Hongwanji Mission: 858 2nd St, Pearl City
10 & 11 (6:30pm - 10pm): Shingon Shu Hawaii: 915 Sheridan Street, Honolulu
10 & 11 (7pm - 10:30pm): Soto Mission of Aiea Taiheiji: 99-045 Kauhale St, Aiea
17 & 18 (7pm - 10pm): Soto Mission of Hawaii Shoboji: 1708 Nuuanu Ave, Honolulu
17 & 18 (7pm): Mililani Hongwanji Mission: 95-257 Kaloapau St, Mililani
17 & 18 (6:30pm - 9:30pm): Jodo Mission of Hawaii: 1429 Makiki St, Honolulu
25 (6pm - 9pm): Nichiren Mission of Hawaii: 33 Pulelehua Way, Honolulu

25 (7pm): Aiea Hongwanji Mission: 99-186 Puakala St, Aiea
25 (6pm - 10pm; kid games 4pm): Kapahulu Center: 3410 Campbell Ave, Honolulu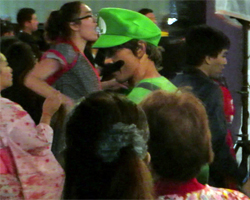 September 2018:
TBD (5:30pm - 9pm): Okinawan Festival: Kapiolani Park, Waikiki
8 (5pm - 9pm) Honbushin Odori Festival: 95-030 Waihonu St, Mililani
DISCLAIMER: Calendar information is obtained directly from the various hosting organizations.  Please don't get mad at me if the dates or times change.  Instead, please send me the updated information using the "Contact" link above, and I'll post the revised information ASAP...
---
2018 Neighbor Island Bon Dance Schedule
For our friends on the neighbor islands, I've found the following (link opens a new tab/page):
2018 All Islands Bon Dance Schedule
---

Additional Bon dance information: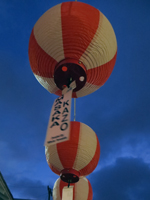 Check the list above to find a Bon dance location that coincides with your dates on Oahu.  Then just plan on arriving at the event early, because parking can be a challenge.  Unless you're one of the first to arrive, you'll probably have to park on the street in a residential neighborhood several blocks from the temple's location.   When you arrive at the location, remember that this is still a religious event – even if it feels like a big party – so show proper respect for everybody and act appropriately.
Was this information helpful?  If so, please give it a "Like" and/or "g+1" below so that more people will be directed this way...
Thank you for visiting!